How to Order Print Copies
If you are interested in ordering print copies, please click on "Order a Print Copy" next to the book you are interested in ordering.
Then, please enter your contact and billing information. In the "Comments" box, please write which book(s) you would like to order and how many copies you would like.
After you submit the form, AAEM Staff will follow up with you to confirm your order and shipping costs. (Shipping prices vary depending on the weight of the book(s) and the shipping location.)
Once your order is confirmed, your credit card will be charged and a receipt will be mailed to you.
If you need any assistance or have questions, please email info@aaem.org or call (800) 884-2236.
AAEM/RSA Toxicology Handbook
iBook: $14.99
App (Apple or Google Play): $2.99
The Toxicology Handbook is an easily accessible reference of common toxicological emergencies. It is authored primarily by toxicologists from a wide range of academic programs and backgrounds, who focused on the clinical aspects of common ingestions, with a special emphasis on the "tricks of the trade" that specialists in the field acquire with time and experience. We hope that you will find it useful in the care of poisoned patients. © 2011
Now available as an e-resource for residents in your AAEM/RSA member center!
Written Board Review Book – 2nd Edition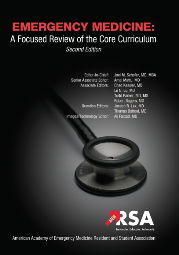 Member (print): $54.99
Non-member (print): $94.99
iBook: $94.99
This is a 24 chapter text is written to prepare you for the:
Emergency medicine qualifying exam (formerly the "written boards")
Emergency medicine annual resident in-service exam
ConCert Exam

over 200 color images
225 question practice in-service examination
24 chapters written by experts in the field
This text also serves as a comprehensive review of emergency medicine for the motivated medical student. © 2015
Special Note: There is a 10% discount on the cost of this book if 5 or more copies are purchased at a time. If the purchasing group is an AAEM/RSA 100% residency program, they will receive a 15% discount on orders of 5 or more books. (Only 1 discount per purchase is available.)
EM Survival Guide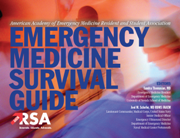 iTunes: $8.99
The AAEM/RSA EM Survival Guide is designed as a portable reference for the busy emergency physician. This concise, organized pocket guide is packed with essential lists, figures, & tables providing instant reminders of hard-to-remember yet vitally important clinical information. Convenient reference sections include dysrhythmia protocols, emergency drug infusions, rapid-sequence intubation, toxicology, clinical rules, and much much more. © 2011
Now available as an e-resource in your AAEM/RSA member center!
(Discounts not applicable to eBooks)
Rules of the Road for Residents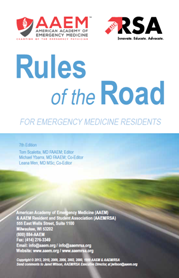 A state-of-the-art career planning guidebook to assist you with the journey that begins during formal emergency medicine training. © 2013
Now available as an e-resource in your AAEM/RSA member center!
AAEM/RSA Emergency Medicine Bedside Ultrasound Guide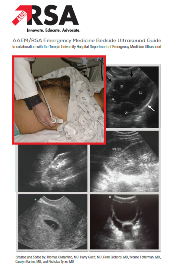 This portable reference guide is meant to provide easily obtainable information to assist emergency physicians while performing point of care ultrasound. It is filled with illustrations, ultrasound images and ultrasound measurements to make information readily available for the busy emergency physician and novice sonologist.
Rules of the Road for Medical Students: The Guide for a Career in Emergency Medicine
Member: $14.99
Non-member: $24.99
This career guide has been written especially for medical students preparing for a career in emergency medicine. © 2014
Now available as an e-resource in your AAEM/RSA member center!
(Discounts not applicable to eBooks.)
Rules of the Road for Young Emergency Physicians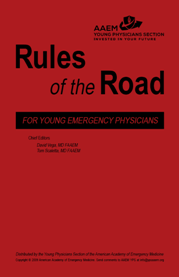 Member: $25.00
Non-member: $50.00
This handbook is the continuation of a series of Rules of the Road publications circulated by the AAEM Resident and Student Association.
This new addition is aimed at providing helpful information for physicians navigating through their early career in emergency medicine. © 2009
15% discount for group orders (five or more).
Multi-media eBook now available!
Setting Up a New Emergency Medicine Business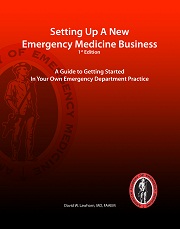 Member: $75.00
Non-member: $250.00
A Guide to Getting Started In Your Own Emergency Department Practice – 1st Edition
Setting Up a New Emergency Medicine Business is a comprehensive guide for EM physicians interested in starting their own EM physician practice. This book will address different business structures-their advantages and disadvantages, the steps for setting up your business, and the contracting process.
Return/Refund Policy for Textbooks for AAEM Bookstore
Refund requests must be postmarked within 10 days of shipment. The restocking fee is 50% of the price of the book and shipping and handling charges for returning items are borne by the buyer. If the price of the item is over $75, it must be returned with a traceable shipping service. If the order is valued at $100 or more, it must be insured for the value of the merchandise and shipped with a signature shipping service. Items below $75 should be delivered with confirmation service. The refund will be processed after receipt of the book. No refunds will be granted if there is any evidence of use of the book.